FBK commitment to Sustainability and CSR
September 2022
Dream Team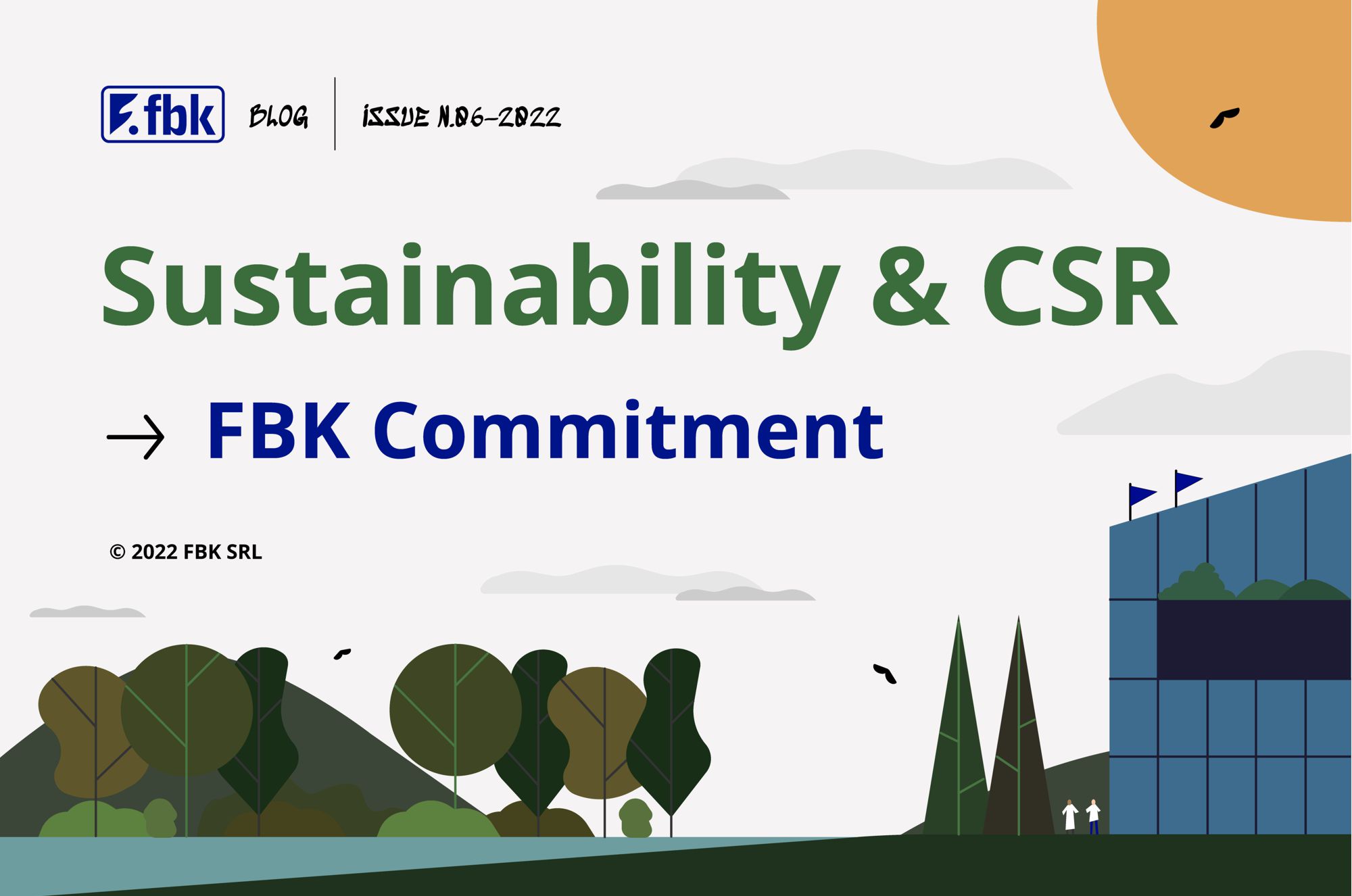 At FBK, we are committed to make the world a better place. It's not a slogan or something we started working on following the recent myth of sustainability no matter what, but it's been a key principle of the company since its foundation.
Sustainability and corporate responsibility drive our business and are an integral part of all activities. We are committed every day to doing our part by conducting our business operations in a sustainable manner. Since last year we have been collaborating with EcoVadis to improve our sustainability practices – environmental, social, and ethical performance.
Carbon footprint
Although FBK does not operate in a sector that produces significant pollution, we are dedicated to minimizing the environmental impact of our operations because we are convinced that every action has a concrete impact.

We have begun continuously monitor the emissions produced by FBK by setting KPI's, with the aim of reducing them and, where possible, eliminating them by modifying internal and external company policies and processes. To do this, we have started by creating a detailed mapping of all the emissions produced by FBK including headquarters, resources commuting and business travel. We then granularly categorized all emission factors to model and understand our carbon footprint to create an actionable plan.

These are the three fundamental questions we asked ourselves:
What we do? (products & services)
How we do it? (operating model)
Who do we influence? (employees and community)
How we are reducing our impact
Headquarters (scope 1, 2, 3):
Energy supplier enablement we have signed a strategic partnership for the supply of electricity from renewable sources with the possibility of purchasing carbon credits produced with energy efficiency measures
Computer equipment we are exploring ways to maximize the choice of computer equipment produced with a low impact on the earth
Business Travel (Scope 3):
Maximize return from each trip each move must bring real and measurable added value
Reducing carbon impact of each trip we prefer traveling by train when it is possible
Resources Commuting (Scope 3):
Headquarters at your fingertips location is accessible and easily reached by public transport, but also equipped with bicycle parking spaces and electric car charging stations (currently not available for all resources)
Smart working reduces the burden on the environment: fewer commutes mean less carbon emission, especially if employees are used to commute by car. At FBK we have always done smart working (or remote) since our foundation
IT Infrastructure (Scope 2 & 3):
Cloud computing first cloud is also energy efficient – 88% more than on-premises data centers. We are working to migrate all our clients to the cloud version of our software. Furthermore, we work with the leader cloud provider that have committed to reach net-zero carbon by 2040
Compute efficiency of our software over the last two years we have made technology investments that improve the compute efficiency of our CM|XS Platform and intend to continue. Faster and more automated operations correspond to more time spent on value-added activities such as customer relations
Build a diverse and talented futureforce
At FBK, we think that our culture and values play a fundamental role for our employees, partners, customers, and community. We firmly believe in our unique principles, and we are using them to create a workspace that spreads them every day in every initiative we pursue from the creation of new products to relationships between people and the success of our customers.
Actions in Progress since our Foundation
Equal Pay: commitment to pay fairness and equal pay - No gender pay gap
Equal Rights: individuals should not be discriminated based on their nationality, sexual orientation and gender identify. We support pregnancy, paid family leave and other programs to close the gender gap. Different makes us better
Education: promotion of initiatives to expand and develop the skills of our team with the aim of allowing everyone to be able to satisfy their aspirations and reach their potential inside and outside the company
At FBK, we offer a clear set of company values that guide everything we do: Play Like a Team, Wear the Customers' Shoes, Kindness Always and Think Forward.

There's so much more to our story – want a feel for our culture? Be a part of something great, start your journey at FBK.
Milan, September 2022.
#YourTrustedPartner
#ForBestKnowledge