We're still the same FBK, just with more space to grow.
2020 has brought a whole new set of challenges. One thing we know for certain is that people are resilient and their spirit of innovation is relentless. These past few months have allowed our team to look at things from different perspectives, developing new ideas and projects.
Today, we're excited to share to our customers and partners the new look of FBK.it, some brand updates and why we made them.

What's changed
We've updated our logo, wordmark and imagery like icons and photography. In addition to these, everything inside our website has been revolutionized.
We've made changes that make it easier to find benefits and features of our products. The new design has the goal to explain our CM|XS Suite, what it does and why it's important to the visitor in the first five seconds of their coming to our website.

How we got there
FBK started out as a software company for Tender & Event Management for Life Sciences and Healthcare markers, but expanding we focused exclusively on Tender Management solutions becoming the leading platform. Today, we help customers around the world make Tender Management simpler, more efficient and more profitable with installations in more than 70 countries.
As our customers' needs have evolved, our business and products have evolved right along with them. We built our new website to scale and change in step.
Since the beginning, design and attention to detail have been a core part of our business and has always differentiated us, and it's in everything we do.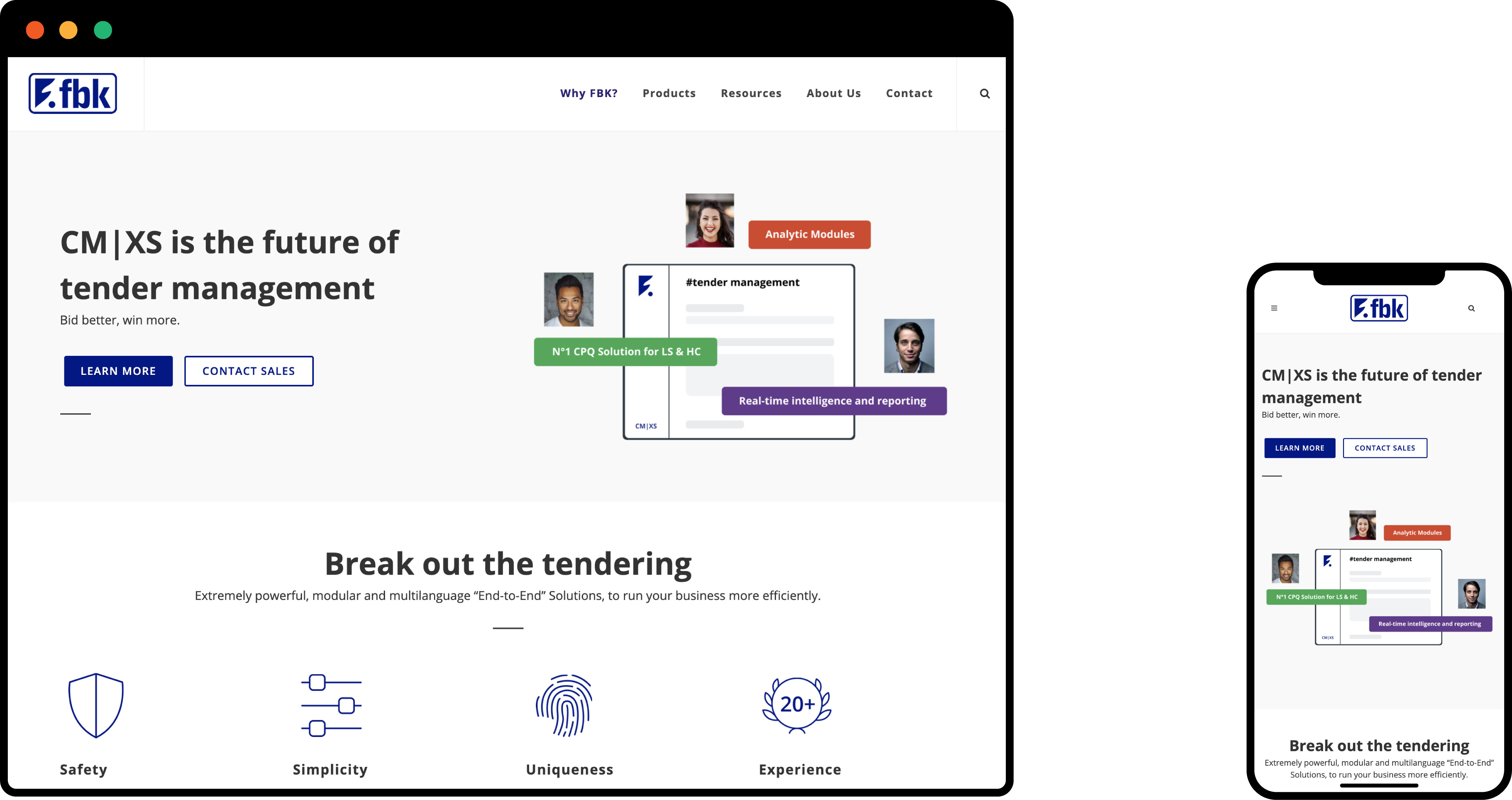 Staying true to ourselves
With this redesign, we set out to retain all the iconic, lovable elements that endeared our earliest customers to FBK, while creating space for the brand to grow and connect with even more business. We didn't want to lose our heritage in the process, so we focused on capturing the essence of what FBK has always been.
If you're interested in digging into our new design and philosophy, contact us info@fbk.it
Milan, September 2020