Organizational Resilience
One of the most requested term in recent times is for sure "Resilience", both related to the personal behavior towards the things in life, but equally connected to the professional activities. With regard to the second aspect, we should like to mention a recent document by Gartner, Inc. the world's leading information technology research and advisor company, that we're glad to have among our prestigious consulting partners.
The "Resilience Premium of Digital Business" it's a trend reported to focus on this important and delicate issue, published on the 24th of May 2018.
In the introduction it is claimed that:
"people are the root of resilience, as an organization's success forms in its ability to handle adversity while maintaining adequate performance levels, and to resume to a "new normal" state of operations. Systemic resilience is critical, and leaders should ensure that systems can adjust functioning in anticipation of, during, or following internal and external events in order to sustain an acceptable level of required operations under both expected and unexpected conditions. Resilient infrastructure sustains perturbations, yet leaders should aim to maintain a level of adaptive capacity within the infrastructure to restore its structure and capabilities to the same or new levels of operational requirements".
We agree with this statement, as a company but first of all as normal people, because our "resilience depth" is tested and managed every day by the different situations and events. To have a more complete idea of this matter here's a visual concerning the Organizational Resilience Drivers by Gartner: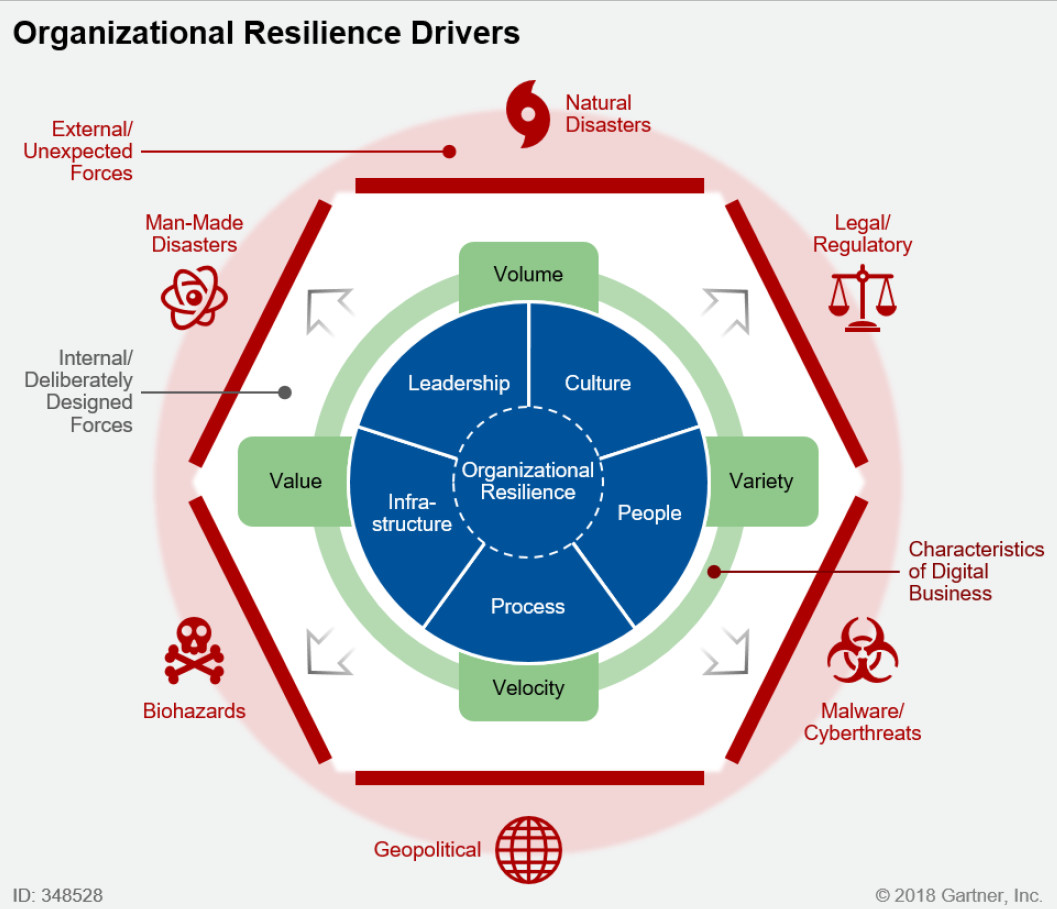 And to face what happens under the term "disruption" ( there's no need to dwell on that at this stage) we agree with another statement of the Gartner document, where we're told that "the Resilience must be held as a premium – as incentive, objective and capability: to attain resilience is to elevate a business's value".
In conclusion of this post we share another definition from the Gartner document:
"Organizational resilience is the ability of an organization to resist, absorb, recover and adapt to business disruption in an ever changing and increasingly complex environment to enable it to deliver its objectives, and rebound and prosper.
We are a company with a stable organizational structure, always challenging to improve the quality of our activities and strengthen all different company areas with new resources and tools, with regard to meet the Customer demands and expectations more effectively. Resilience undoubtedly exists within our everyday practice, because we simply cannot take our mind off!
Why don't you browse our Team Identity section to get an impression of the FBK's vision, we'd be glad to receive your comments through the Contact page, or by mail at sales@fbk.it
Thanks for reading!
Milan, October 2018.
#YourTrustedPartner
#ForBestKnowledge