Introduction
FBK, privately held company with head office in Milan/Italy, is one of the main providers of Tender Management Solutions for Manufacturers, Suppliers, Vendors, and Resellers within the Life Sciences and HealthCare industry. The company is certified ISO 9001:2015 and has achieved Service Organization Control (SOC) 2 Type II Report.
The total business managed through FBK systems is currently over $7bn, with a 25% year-over-year growth. FBK provides its services in more than 30 countries worldwide
The company was established in 1996 and began its activity with the Meeting Manager tool, successively followed by the introduction of the Tender Management Solutions, and has built extensive expertise in providing and integrating Enterprise level software.
Partnering with many of the largest multinational companies has meant the development of considerable know-how through the years for FBK, aiming to become the leading company for Tender Management Solutions.
FBK ESSENTIALS

In 2006 the company made a conscious decision to shift focus from the local to the global market establishing a new orientation that put Multinationals as primary reference customers. A research program of European requirements was started, building an essential knowledge base of the issues that Life Science companies face across Europe. Development focus moved to cover pan-European needs while at the same time the commercial activities focused on understanding and meeting Multinational customer needs. Since then FBK has proven the ability to integrate both from a Software, Compliance, Methodology and a Project Management standpoint with the market leaders in the Medical Device, Diagnostic and Pharmaceutical markets.
The year 2007, with the first of several international Tender Management projects, has marked a significant change in our customer strategies, and has consolidated and marketed different countries businesses onto a single Tender Management platform. This was possible only through a Tool that could guarantee legal compliance, best practices, and methodologies appointed at a National level.
In 2008 FBK sought and obtained ISO 9001 certification. DNV-GL (www.dnv.com) was chosen as one of the world's leading certification Bodies, as a guarantee for our customers.
In 2010 FBK has started several partnerships with other international companies having a keen interest in adding FBK solutions to their internal systems, and the subsequent period was defined by the expansion and consolidation of FBK products over a wider market footprint, with a more varied and complete coverage of business sectors.
In 2015 FBK introduced to the market its SaaS platform (fbsys.com), which can significantly speed up the deployment of Multi-Country solutions, and has started being active in extra-EMEA contexts.
In 2016 FBK launched the new release of CM|XS Mobile component, which helps Customers dramatically increase the integration between the BackOffice activities and Sales Force.
In 2017 FBK released the 1.0 version of CM|XS DataMart. This module provides new Analytic instruments and tools, and adds strong value to CM (Contract Manager), allowing users to achieve millions of data rows in real-time through an integrated and transparent system, avoiding the support of external information.
In 2018 FBK launched CM|XS Reporting module as part of Contract Manager modular suite, a cloud solution designed to address the needs for any kind of reports, accessible from all last-generation browser supporting HTML 5, that provides data-export in various formats and any context, with multi-selection filters available. CM|XS Reporting delivers tons of data with a single click on your keypad, thanks to the use of Exasol, the world's fastest in-memory database.
During the first half of 2018 FBK has further strengthened its position within the EMEA countries, in particular concerning East and Middle East areas. FBK plans to add new countries in its portfolio by the end of the year 2018.
During November 2018, FBK has changed the historical label Contract Manager with the new brand CM|XS Suite, the next-generation platform for Tender Management featuring dozens of OUT OF THE BOX functionalities, able to respond to any kind of requirements, for any type of customer, in any moment.
The year 2018 has ended very well for FBK for several reasons. Our market presence has further expanded during 2018, with a growing demand for new installations of our software solutions, which are operative in more than 30 nations across the world.
As driving an excellent full-year performance with an increase of 30% of the turnover, 2018 turned out to be the bigger advance of our technology development.
Several acknowledgments have been given to us from many of our prestigious clients, for being near to their needs and for the efforts undertaken.
As full acknowlegment of its top level of quality, in November 2018 FBK achieved Service Organization Control (SOC) 2 Type II Report. Developed by the American Institute of CPAs (AICPA), SOC 2 is specifically designed for service providers using the cloud to store customer data, referred to the five Trust Services Principles (TSP), Security, Availability, Processing Integrity, Confidentiality, and Privacy. SOC 2 provides an independent assurance that FBK cloud platform fbsys.com is safe and secure, and the entire FBK organization carries out the whole process of designing, modifying and supporting activities in a proven and safe manner. Another significant milestone for our Company.
The new year, 2019, confirms, in particular, the positive trend of our SaaS solutions from the market, a major breakthrough that brings real advantages to the Customer thanks to many critical success factors as the combination of quality and affordability plus the versatility of application and uses, avoiding any infrastructure or hardware maintenance.
During the month of May FBK has released the new exciting module Bands and Tiers Threshold Management in response to specific market demands such as UK and Canada, that features the fundamental opportunity to define the pricing by lot and by bands within the bids framework, gaining absolute and efficient ways to manage the pricing management throughout the purchasing process.
With this innovative tool FBK once again shows strong capacity and intense effort in implementing new solutions for its Customers.
Between May and June, several country installations have been launched or upgraded, specifically in the United States and Canada, as well as in the UK and the European Nordic countries.
In the meantime, new projects are in progress, scheduled for delivering in the second half of the year.
On July 15th FBK moved its Head Quarter to the new location of Viale del Ghisallo 20 nearby the well-known green area of San Siro, doubling the size of the office space with wise arrangements and availability, to properly welcome new specialists that will join FBK in a short time and in the next future.
A significant breakthrough happened on July 24th 2019, when the company changed the corporate name into FBK. This innovation has been primarily taken to meet the common mode of calling us FBK, especially from our international customers, that have always found this designation more easier and immediate. Also not less important, with the new corporate name FBK initiates an exponential growth phase, that will see a constant growth of internal resources over the medium term, and the launch of new applications that will be introduced within the current year.
CEO Message
Through hard work and dedication and in a relatively short period of time, FBK has grown to become a world leader in its field.




Focused and dedicated since the beginning to a specific market sector, with a view to ensuring that a close working relationship built with the customer is key for this success.

FBK has an in-depth knowledge of the Life Sciences issues which guarantees that its products have the added value and functionalities to really stand out from the rest.
With an excellent management team, strong existing relationships along with the developing of ever-new market opportunities, I believe FBK is very well positioned to face future challenges with confidence.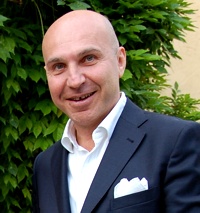 ---